Please email us hello@carsoda.com for any feedback/questions regarding your order. We love to see how our customized girly car accessories bling in your vehicle.
Here are some recently reviews from our customers 2017-2023.
Thank you so much I love it!!!! And it really blings girls with the Nissan this the bling for you and it takes awhile due to custom cuts being done but the customer service was good also keeping me informed thanks again 
Please send us pictures and emails if you like our products. Thank you. :)
Chevrolet (a.k.a Chevy) is an American automobile division of the General Motors (GM), which manufactures and produces a wide range of cars, trucks, SUVs, and commercial vehicles. The Chevy brand has a diverse portfolio of vehicles, including popular models like the Chevrolet Camaro, Silverado, Corvette, Equinox, Malibu, and Tahoe.
Here is a review from a customer who drives Chevy Silverado. She asked us to customize bling decals for her vehicle.
'I recently installed the Bling Chevy Front and Rear Emblem Decal on my Silverado truck, and I couldn't be happier with the result. The attention to detail is simply amazing. The bling rhinestones are so shiny and sparkly, and they add a touch of elegance to my truck.
The quality of the product is outstanding. The decal fits perfectly on the front and rear emblems of my Silverado, and it is made from high-quality materials that are built to last. I have had it installed for several weeks now, and it has held up incredibly well, even in harsh weather conditions.
The installation process was super easy, too. The decal came with easy-to-follow instructions that made the installation process a breeze. After cleaning the emblems with rubbing alcohol, I simply peeled off the backing of the decal and applied it to the emblems. It adhered immediately, with no air bubbles or wrinkles.
Since installing the Bling Chevy Front and Rear Emblem Decal, I have received so many compliments from friends and strangers alike. People ask me where I got it and if they can get one for their own vehicle. I am always happy to recommend this product to anyone who wants to add a touch of bling and uniqueness to their ride.
Overall, I am extremely satisfied with my purchase of the Bling Chevy Front and Rear Emblem Decal, and I highly recommend it to any Chevy Silverado owner who wants to add a bit of sparkle to their ride. It is a well-designed, high-quality product that is sure to turn heads wherever you go.'
Happy customer's email:

Mercedez Benz blinged out front:

Thank you and the decal looks great! Very happy customer.




Thank you Liz.
The cover looks splendid.
Here my Tesla S is on nocturnal standby.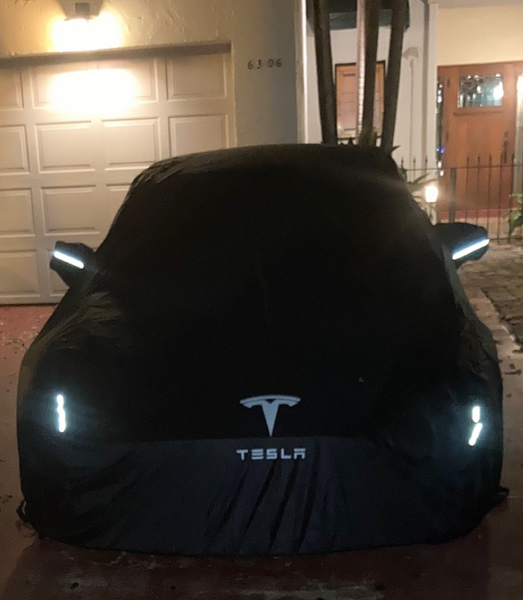 Thank you so very much…. Just wanted to let you know that it was definitely worth the wait! They look fabulous!
Tiffany Bramwell 

I got my bling emblem for Mercedes, I LOOOOOVVEEEE IT!!! My car is soooooo freaking awesome! Thank you sooo much! I can't wait for my next order! The shipping was fast!!
Kim Marshall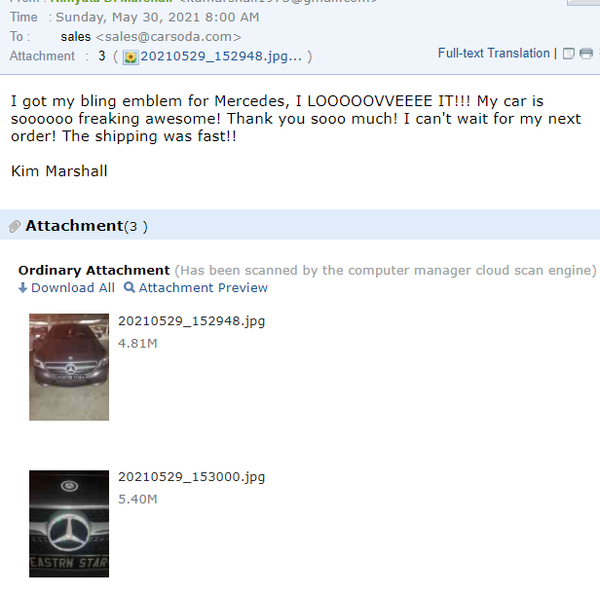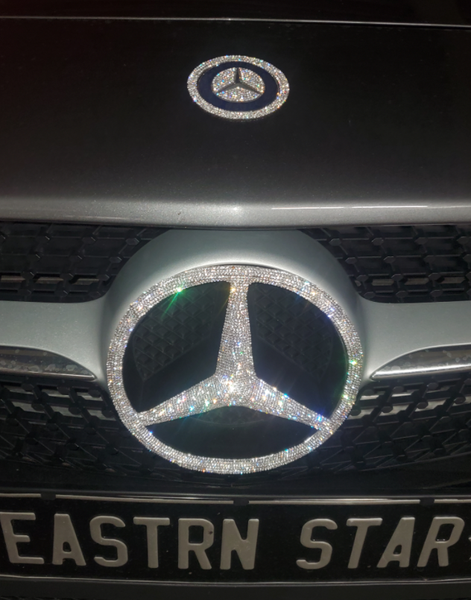 I am so in love with my order for my Hyundai.  My son said ma'ma, I said, I know. ----Tanya Davis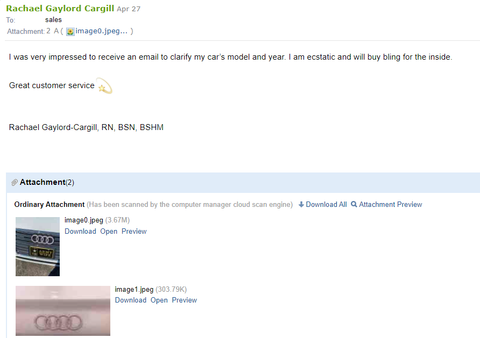 Love my chevy bling new look.
Received the shipment.  I wanted to let you know that I am very happy with the quality of both items.  Also, I am very impressed with the costume made car armrest for my Honda Accord.  IT FITS LIKE A CLOVE, a saying here in the STILL FREE USA!
                                                                                    ~~~GLENN BOOKER
I just received my bling Honda emblem and I absolutely love it! Shipping took a little less than a month but it was totally worth the wait. It truly blings and the 3M sticky tape really secures it. Thank you Car Soda :)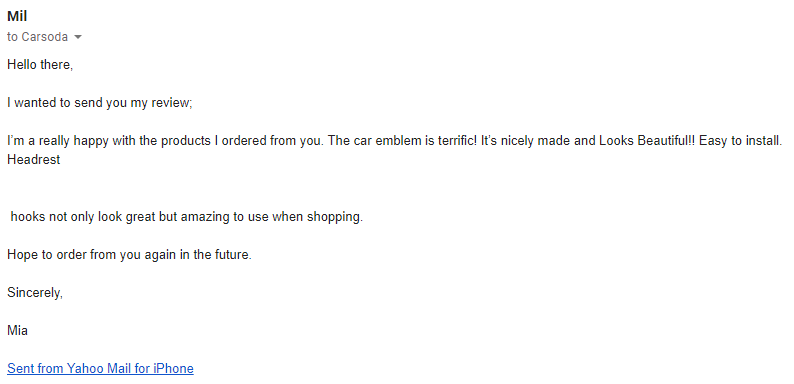 I wanted to thank you for the beautiful lettering! I'm beyond thrilled with it. Quality of stickers, stones and adhesive surpasses my expectations. I will be ordering a second set to have on hand in case anything happens to any of them! Thank you also for being so prompt in answering emails regarding shipping. I understand it is tough to get orders out and especially across borders with COVID and you answered both of my emails quickly and professionally. I would order again and highly recommend your site!
Sincerely,
~Tarah
https://www.instagram.com/tv/B3U5gyfHNFk/?igshid=d4k8ioc1tw9o
Thanks for a great video review from @tiffanylynettedavis
Updated Aug 12th, 2019
Updated Jun 3rd, 2019
Updated May 21st, 2019.
Nov 2018
September 2018
Thank you lulu for your feedback:
Thank you Janet for your review and feedback pictures.
Thank you Erika for your review.
This is an email from Erika Lynch. She loves her steering wheel cover and toyota bling logo.
This is an email from Brianna who purchased the bling mazda steering wheel logo:
This is an email from a happy Mini countryman owner:
These are some of our recent customized orders. Happy customers sent our these photos:
More reviews from Instagram.
Thank you carsoda.com for making my car so cute!~Jessica from CA.
Carsoda provides the largest selection of girly bling car accessories online with great quality! This girly bling car rearview mirror in purple is sooo cute and I have received so many compliments. Thank you!~Cindy from Seattle.
Here are some pictures from our happy customers@Intstagram:
In love with my new seatbelt cover!
Thank you Carsoda for customizing my wedding car! That was so unique and eyecatching. We had a blast!
Here are some wedding car with beautiful decorations images:
Here are some reviews and pictures from customers when we were selling on Etsy.
I love my personalized steering wheel cover!!!! ?❤️~From Katie Muller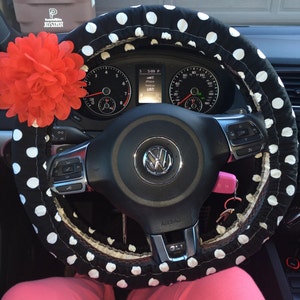 LOVE IT--MATCHES THE MIRROR COVER PERFECTLY. I HAVE AN OLDER CAR(REATTA) STEERING WHEEL IS LARGER THAN MOST COVERS FITS PERFECTLY REALLY DRESSES UP MY CAR--GIVES IT A PERSONALITY . THANK YOU ~ From ReattaReeRee
Super cute steering wheel cover! And I custom ordered the matching seat belt cover, all together they look so pretty in my crv and they add the perfect feminine touch :) and the seller answered all of my questions (I had a lot) very nicely. When I first received my order the flower on the cover did not match the one in the pic, so I contacted the seller and she quickly sent me the right one :) A+ for customer service! If you're thinking of buying anything from this shop, just do it! It all looks better in person!
These covers are super cute! They're a lot longer than I expected which is a good thing. I got them in a matching pattern for my steering wheel and altogether it looks adorable! It gives my crv a perfect feminine touch. :) they help keep the seat belt in place which is awesome! No more annoying seat belt cutting into my neck. ~From Victoria Reyes
I love the quality of the steering wheel cover. I also love the material and the pattern is amazing to me. I love cats. Shipping was pretty fast and i had no problems with this seller. I am very happy with my purchase~ From Aneesah Nutt
I absolutely love it! Thank you so much... It's perfect!~ From Courtney Piercy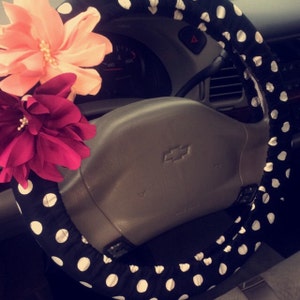 I absolutely LOVE my steering wheel cover! It fit perfectly, and got here quicker than expected! ~ From mariahchey
Not a very good picture but it fits good and looks pretty!! So happy with this item~abeynormal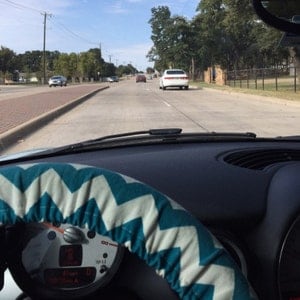 great quality & super cute! you can tell everything was made nicely. everything i bought with the cover was packaged really nice! will be ordering again (: ~ Alexis Angeles
Love love this item, my other steering wheel cover was very lose and this one fits perfect! My other one had a bow and was pinned in and it would poke me all the time I love that the snap on!~Courtney Hentsch
BEAUTIFUL! Looks exactly like the picture with great quality! I love it!~Cedrena Felton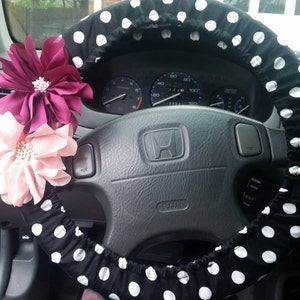 I've never been so happy with something that I ordered over the Internet. I'm so happy to have such a cute steering wheel cover!!!~alexmcphers0702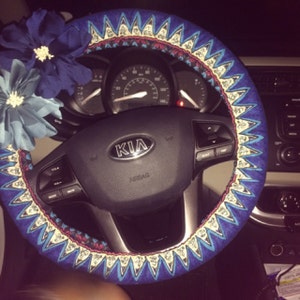 I love my steering wheel cover! It's super cute and all my friends comment on it. It was a little big for my wheel in the way that I had to move my steering wheel up so that I could see my speedometer but other than that I love it!! Might purchase another one eventually :)~Hanah Cook
Im amazed! Love it! Best quality and looks fantastic! Sure not the last one I order! Thanks for good work!!!~Kathrin Hänke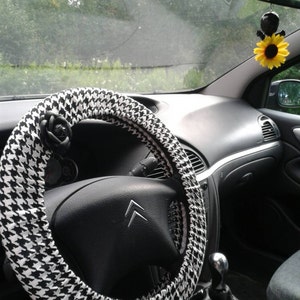 Fastest shipping I've ever had from an overseas company, I was mind blown lol! The cover is beautiful & looks great on my '08 corolla steering wheel. Highly recommended~Jasmine
This cover is not only extremely cute, but it came exactly as pictured. I am absolutely in love with it and am so pleased. When I was tryin to stretch it onto my steering wheel, I was afraid it might not fit, but once I was able to get all the edges on, it fit perfectly. When ordering, I was also worried it may slip while I drive, but it hasn't at all. The non-slip grip it has in it works really well. I have only good things to say :) it did take a little while to ship, but it's because it is not coming from the U.S. However, In the email that I was sent confirming my order, the etsy shop owner explained about how long it would take and it didn't exceed what was told to me. All in all, great product and decent shipping time considering it comes from outside the U.S. Great quality.~kathrynelizabeth27
Item shipped much faster than I expected!
Shop owner always responded to my messages and even customized my order with no problems or extra charges! I will be order matching mirror cover next from her!!!
Great product!!!!!~Nikki
Looks so cute on my little Honda Fit steering wheel. Got here fast as well!~Kali Tomlinson
I love these! They are so cute!~Amanda Martin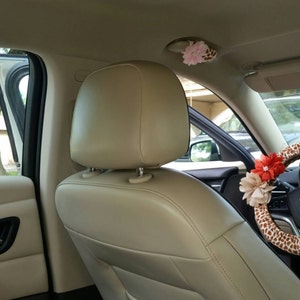 Actually made my day so much better getting this is the mail and I'm in love with it!!????~Meaghan Sinner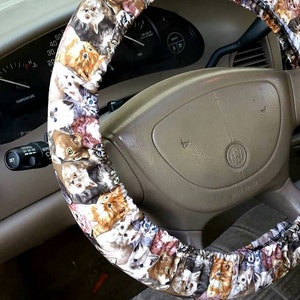 It was just like the picture! Fits good and doesn't slide on my Nissan steering wheel! LOVE this product so much!~raiganrenfrow9219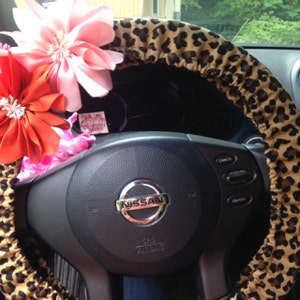 Too cute. I love it.~Katie Preston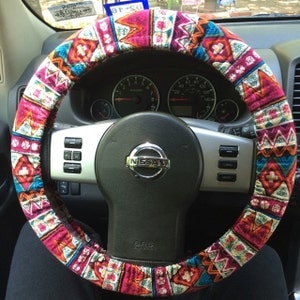 I really love the way it fits to my car and just it's in really good shape! Also love how it looks exactly like the picture!~Kaylen Yarborough
Thank you so much. Couldn't be happier with it. I was worried that it could smell a little like chemicals but nothing like that.
Just perfect, thanks again~CarAuto
It's great quality and it looks exactly how it did in the picture! It keeps me from burning my hands on my steering wheel and it makes my car look cute :)~Emily F
fits perfectly in van, love the color very fun. Super fast shipping and easy transaction, thank you!~Dena Peiffer
I was expecting it to arrive 3-4 weeks after I purchased but I actually got it today!! It's been 2 weeks so I'm super happy, I wasn't expecting it to come so soon! It's soooooo beautiful!!! This was the first I've bought on here and totally wish I would've bought more! Definitely won't be the last I buy from carsoda! :)~Adriana Lopez
I just received this item and ran straight to my car to put it on. It's super cute!~Darlene Soria
I ordered one for myself and loved it so much I ordered for a friend bs he loves it as well. I can't say enough about how well it's made. With the non slip material on the inside it is just perfect.~Alexa Greager
This is my favorite thing I've ordered from this store! I was worried It would be difficult to drive with the flowers and that I would have to take them off when I drove but it actually didn't get in the way at all! I would rate this 10 stars if I could!~Jasmine Duncan
Love love love love it! It has a material on the inside that keeps it from moving around which is awesome! My other one moved around constantly. These are cheaper and better made which makes it even better! I ordered one for a friend of mine I just had to share!~Brittany Coakley
It was really pretty and well made. My friend owned a Toyota and this fit her car perfectly. It also seemed very soft. great purchase.~Amy Thor
Absolutely love the headrest cushion. So much fun. Fit my Element headrest perfectly. I smile every time I get in my car. Very well made. Arrived extremely quickly and in perfect condition.~thieba
This is so cute! Was the perfect gift for my friend! Item is well made and arrived in a quick timing! Defiantly recommend!~Danielle Lee
Fits perfect in my 2013 Beetle! I absolutely love it!~Adriana Mora
This is so adorable! The flowers are even prettier in person. My niece is going to love this for Christmas! My daughters are already begging for one for when they get their cars! I tjink I need one too! ?~brandi bussard
I really enjoyed doing business with Carload. They were professional and accurate. She even sent me swatches before I placed the order to see if its exactly what I wanted. I WILL definitley be doing business again with them. THANK YOU so much for your business. looking forward to doing business with you soon.~MARSHA CHATELAIN
They finished off the interior of my car! They are useful too! I no longer have issues with the seat belt hurting my skin when I wear a tank top!! Shipping was faster then I thought!~Ryagurl04
Super great quality, beautiful design and fast shipping! CarSoda even matched my belt covers to my steering wheel cover. My car looks great now thanks to CarSoda! I'll definitely be back :)~Kaylie
I love this cover, it adds so much style to my car in addition to the practical aspects of never again burning my hands on a sun-soaked steering wheel. I chose to get just the polka dots without the pink monogram, and it looks great. The cotton outer layer feels great on my hands also, it's nice not having to touch
the original steering wheel. Underneath the cotton layer, there is a layer that grips onto the steering wheel, made of non-slip material. This stylish cover sure makes life easier, and feels good on your hands.~T
So happy with purchase I love this item, did not wait too long to arrive and was kept up to date with progess. The picture does not do this item justice, they are so much better, everyone has commented on them. Will definitely use shop again :-)~Cara McRobert
The cover is gorgeous and feels good to grip. I just moved to Georgia so I wanted to something that would keep the wheel cooler to the touch. This pattern & color is perfect for my Mini which is a 'Cobalt Blue' turquoise-like color. It's great that the opposite side has a 2nd pattern to reverse out. ~Deb~Searoses12
I got my steering wheel cover and matching pillow and absolutely love both of them. The patern and material was exactly what i wanted. I got the black with white polka dots and the steering wheel cover had two flowers that snap on. The pillow material is very soft to the touch and stays on my car head rest nicely. Very nicely sewn and made. Would deffinitely order again! Loved it!~Angela Retzloff
I love this item! the shipping was very quick and it makes a massive difference to my car, it is such a cute accessory and have received so many compliments with it <3~ Aine Lawlor
I love it so much!!! Came SUPER fast and was exactly as pictured!!! I couldn't be happier!! Will definitely be buying from Carsoda again!!~ Brittini Herring
I am so happy with my purchase for the first time with Carsoda. The item is exactly what I expected. I will definitely buy from Liz again. I absolutely adore the steering wheel cover, because it matches the inside of my car to perfection, it is as cute as in the picture. Thanks a ton Carsoda :) ~ Claudia Quevedo